Het belangrijkste onderdeel van het hele Cisco Meraki portfolio is ongetwijfeld het dashboard, een handige interface die je altijd en overal kan bereiken. Vanuit het dashboard kan je je hele netwerk monitoren en configureren. Een radicale vernieuwing tegenover het klassieke beheer van netwerkapparatuur via console kabels, SSH terminals of lokale web interfaces. Zo'n vernieuwing vereist een nieuwe manier van denken van ons als netwerkbeheerders, maar opent ook heel wat nieuwe deuren.
Er zijn tal van voordelen aan het werken met het cloud-based dashboard van Meraki:
Eenvoudige, gebruiksvriendelijke interface
Geïntegreerd beheer van de hele netwerk-stack: switches, security appliance, access points, camera's … beheerd vanop 1 dashboard
Logs en andere analytics blijven beschikbaar in de cloud, ook als de apparatuur offline gaat
Uitbreidbaar via API's, waardoor we op maat tools kunnen ontwikkelen en volledig integreren met het dashboard beheer
…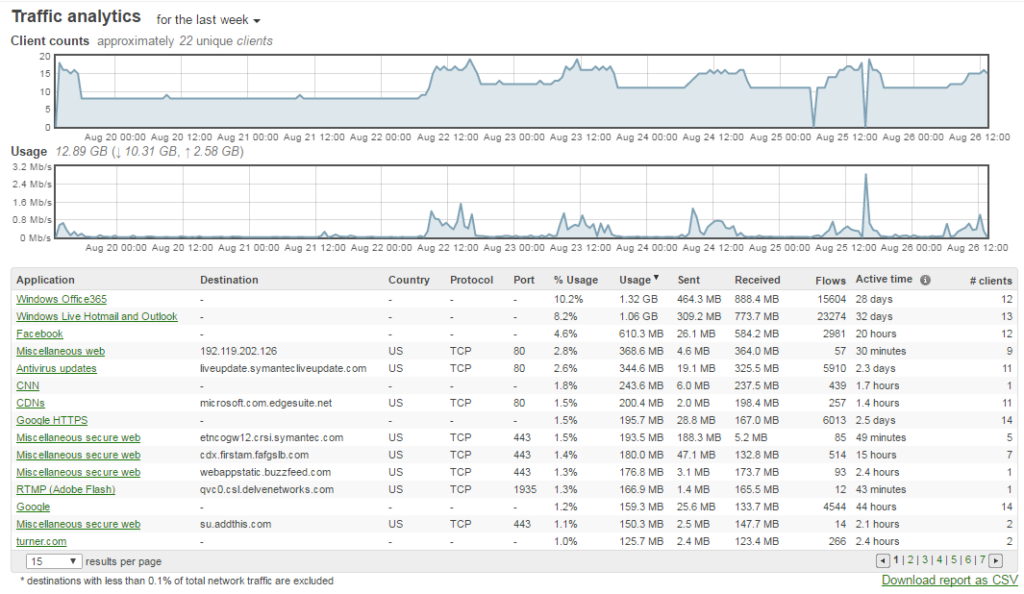 Maar voor IT Insights als Managed Security Service Provider (MSSP) is er één voordeel dat er met kop en schouders bovenuit steekt: het dashboard laat ons toe om de netwerken van al onze klanten gewoon te monitoren en beheren vanuit ons kantoor. Waar we voorheen moesten inloggen op elk toestel via een VPN-verbinding of via het remote overnemen van een lokale computer, hoeven we nu enkel aan te melden op het dashboard of op ons geïntegreerd ticketing systeem.
Ook wat monitoring betreft opent het dashboard een wereld van mogelijkheden. Een klassiek netwerk monitoren als MSSP betekent ofwel een lokale monitoring server plaatsen bij de klant, of werken via VPN verbinding. Het Meraki dashboard maakt dat allemaal overbodig. De meeste logs en analytics blijven minstens een maand bewaard in de cloud. Periodieke rapporten laten genereren is in enkele clicks geconfigureerd. Dit alles laat ons als MSSP toe om professionele monitoring en rapportering aan te bieden zonder extra materiaal of kosten.
Het Meraki dashboard is dus niet alleen een vooruitgang in comfort en gebruiksvriendelijkheid. Het laat ons toe om een professioneel beheerd netwerk aan te bieden aan grote, maar ook kleine klanten, voor wie dit anders onbetaalbaar zou zijn.